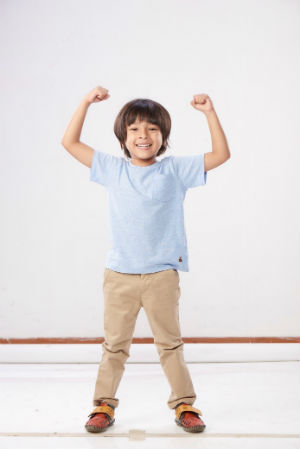 CHILD GROWTH AND DEVELOPMENT - CHILD HEALTH NUTRITION
Adequate nutrition is one of the important factor influencing growth & immunity. A balanced diet must contain sufficient amount of carbohydrate, protein, fat, vitamins, minerals and fibre in the required amounts. Each of these nutrients has a vital role in the all-round growth and development of children1.  
A gap in intake of macro and micro nutrients can put a child into the vicious cycle that takes its toll on growth. This vicious cycle starts with inadequate nutrition and it may lead to infection & impaired immunity. As a result of this vicious cycle, a child may falter in desired growth for age. Breaking this vicious cycle is critical to help a child achieve age appropriate growth2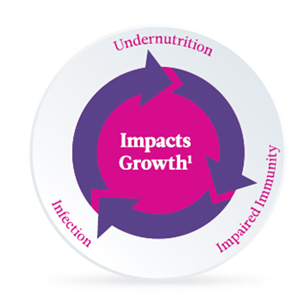 Ways to Help
It may surprise you to know that between 70-80% of your immune cells are located in the digestive system. A balanced diet helps fuel the immune system by providing necessary nutrients so the digestive system can function properly. Both, probiotics - which are good bacteria - and Pre-biotics - which are food for good bacteria - are known to support gut health and help build immunity.
PediaSure contains Immuno nutrients like Probiotics (Bifidobacterium and Lactobacillus acidophilus) & Fructo-oligosachharide a known prebiotic fiber. PediaSure also contains Vitamin C, E, Zinc and selenium which are are known "Antioxidants" to fight against free radicals
References:
Ghai OP.Normal growth and its disorders in: Ghai essential Pediatrics 7th edition; Ghai OP, Paul V, Bagga
Philip C. Calder Nutrition Research Reviews (2000), 13, 3-29 (Undernutrition, infection and immune function)
Furness, John B., Wolfgang A. A. Kunze, and Nadine Clerc. Nutrient Tasting and Signaling Mechanisms in the Gut. II. The intestine as a sensory organ: neural, endocrine, and immune responses. Am. J. Physiol. 277 (Gastrointest. Liver Physiol. 40): G922–G928, 1999.
National Institute of Nutrition ICMR. Dietary Guidelines for Indians - A Manual.; 2011. http://ninindia.org/DietaryGuidelinesforNINwebsite.pdf

(PDF 1MB)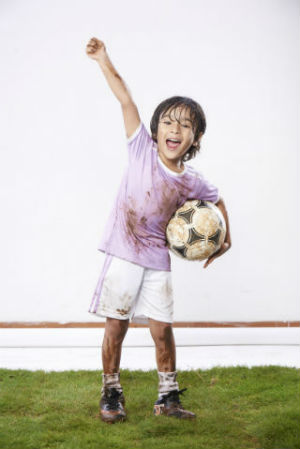 PHYSICAL ACTIVITY
Being physically active helps kids feel better in more ways than you may think. Kids who are physically active have better brain function and tend to do better in school than kids who aren't3. A balanced diet that contains all the food groups will help ensure your child has proper growth & development to stay healthy & disease free.1-4
Ways to Help
The body gets the calories it needs for energy from 3 nutrients – carbohydrates, protein, and fat4. Carbohydrates calories are the simplest form of readily available energy. As long as there is not an excess of carbohydrate foods, this energy is burned as fuel and is not converted into fat. Sources of complex carbohydrates such as whole grains and fresh fruits and vegetables with the skin left on provide fiber that the body digests more slowly and therefore are the best choices for kids and adults5.
Protein-rich foods are broken down into amino acids that are used by the muscles for growth. Unsaturated fats (also called healthy fats) are a necessary part of a healthy diet. When protein, carbohydrates, and fat are consumed together, digestion is slowed and energy is provided over a longer period of time2,4,5.
Pediasure contain a scientifically-balanced blend of these 3 macro nutrients meeting AMDR guidelines ( Acceptable Macro nutrient distribution range given by Institute of Medicine ,US) providing energy to help your kids be physically active6.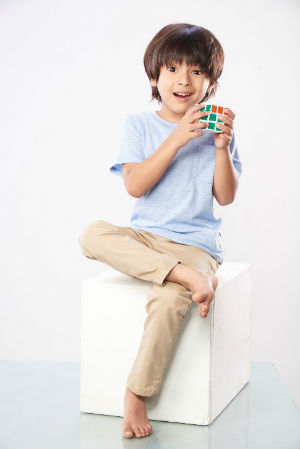 COGNITIVE DEVELOPMENT
Good nutrition is important for cognitive development. Emerging science shows that many nutrients are needed for healthy brain function. Essential fatty acids - ALA ( Alpha linoleic acid) & LA ( Linoleic Acid) are known to support brain development. Iron is an integral part of haemoglobin which supplies oxygen for the brain to function. Choline helps in formation of neuro transmitter. Iodine helps in cognitive development1-3.
It's a balance of many important nutrients working together that contributes to brain development
Ways to Help
Providing your child with a balanced and varied diet, including many different nutrients such as ALA,LA,Iron,Choline,Iodine can help give them a healthy start as their brain continues to develop2.
Since the body does not produce enough ALA , which is an essential fatty acid kids need to consume it in the diet to meet the body's needs. We can get ALA from foods such as walnut, flaxseed,soyabean,chikpeas4.
Pediasure contains neuronutrients like ALA , LA , Iron , Iodine, Taurine, Choline to support brain development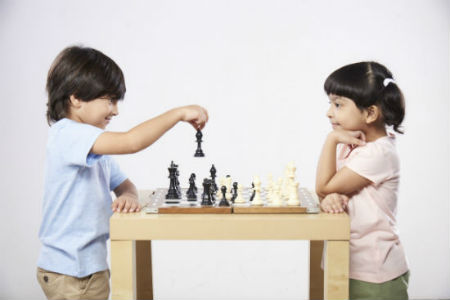 BEHAVIOR
It happens to everyone once in a while: you missed breakfast or skipped lunch and in a few hours you are feeling it. You may be distracted by hunger, unable to concentrate, or even feeling grouchy.
Kids may experience the same symptoms from skipping meals, and it can affect their behaviour. In fact, school breakfast programs have been proven to have a positive impact on classroom performance and behaviour, particularly for kids who are not getting the nutrition they need.1 Certain children that are significantly below normal height and weight may experience Failure to Thrive, a condition with common symptoms including delayed mental and social, as well as physical, skills1,2.
In a study of school-aged children, more than two-thirds of kids who were food insecure experienced a decrease in emotional and behavioural problems after 6 months of a school breakfast program.1
Ways to Help
One way to help your child choose healthy foods is to eat healthy, regular meals yourself. Kids will want to mimic what they see you do. Having a well-balanced diet and eating regular meals can help prevent that distracted, grumpy feeling and provide kids with a strong start to their day3.PediaSure can help provide kids with nutrition during snack time, on days when parents are crunched for time or the day hasn't gone as planned.
References:
Kleinman RE, Hall S, Green H, et al. Diet, breakfast, and academic performance in children. Ann Nutr Metab. 2002;46(0 1):24-30. doi:66399.
Scholler I, Nittur S. Understanding failure to thrive. Paediatr Child Health (Oxford). 2012;22(10):438-442. doi:10.1016/j.paed.2012.02.007.
Rampersaud GC, Pereira MA, Girard BL, Adams J, Metzl JD. Breakfast habits, nutritional status, body weight, and academic performance in children and adolescents. J Am Diet Assoc. 2005;105(5):743-760. doi:10.1016/j.jada.2005.02.007.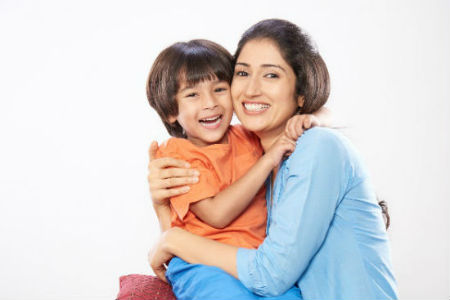 EMOTIONS
In today's world of fast food and overall poor eating habits, kids can develop a negative relationship with food early in life. However, parents have more influence over their kids' attitudes toward food than they may realize. It's common for parents to try to make sure their children are getting the nutrients they need by requiring a 'clean plate' at the end of a meal, or forcing kids to eat things they don't like. While this is often done with good intentions, it can lead to the child having negative feelings about mealtime and healthy foods.
A responsive feeding approach has been shown to be much more effective in terms of healthy nutrient intake1. By following the cues of a child to indicate hunger and fullness, parents can avoid mealtime turning into a fight. Children decide whether and how much to eat from what is offered. The key is for parents to offer a variety of foods with a scheduled meal and snack pattern full of the nutrients kids need.
Ways to Help
One of the best things you can do to improve the emotional health of your children concerning nutrition is to instil positive attitudes about food. It has been proven that parents have a definite influence on their kids' relationship with food later in life,2,3 but modeling the behavior we want for our children is not always easy. Adults have their own habits and attitudes toward food that can impact their children. You can set a positive example for kids at mealtime by serving nutrient-rich foods, allowing kids to make decisions about what they eat (and even if they eat), and eating normal-sized portions of food yourself4.
References:
Engle PL, Pelto GH. Responsive feeding: implications for policy and program implementation. J Nutr. 2011;141(3):508-511
Haycraft E, Goodwin H, Meyer C. Adolescents' level of eating psychopathology is related to perceptions of their parents' current feeding practices. J Adolesc Heal. 2014;54(2):204-208. doi:10.1016/j.jadohealth.2013.08.007
Branen L, Fletcher J. Comparison of college students' current eating habits and recollections of their childhood food practices. J Nutr Educ. 1999;31:304-310.
Kerzner B et al. A Practical Approach to Classifying and Managing Feeding Difficulties. Pediatrics 2015;135;344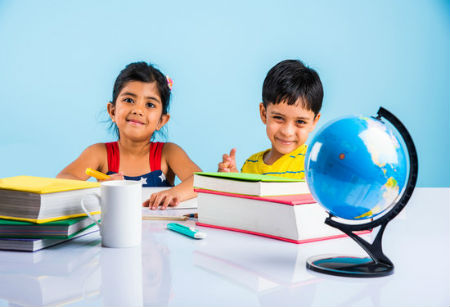 ACADEMIC PERFORMANCE
Emerging science shows a link between nutrition and academic performance. Recent reviews of school breakfast programs in the United States confirm the benefits of breakfast for classroom performance, school attendance, and behavior, especially for children who may be food insecure1. A report in 2012 concluded that 95% of teachers asked had observed that eating breakfast at school had improved kids' ability to concentrate2,3.
Nutrients that can help
Providing a well-balanced breakfast with many different nutrients can help give your child a strong start to the school day4. Not only can a good breakfast help them stay focused in school, but also may lead to improved academic performance1,5,6. You can make PediaSure a part of a healthy nutritious breakfast.
References:
Basch CE. Breakfast and the achievement gap among urban minority youth. J Sch Health. 2011;81(10):635-640
Hayes D, Spano M, Donnelly JE, Hillman CH, Kleinman R. Proceedings of the Learning Connection Summit. Nutr Today. 2014;49(1):18-25. doi:10.1097/NT.0000000000000011
Share Our Strength No Kid Hungry APCO Insight. Hunger in the Classroom : Share Our Strength Teacher Report 2012.; 2012
World Health Organisation. Healthy Diet Fact Sheet No. 394. September 2016. https://www.who.int/elena/healthy_diet_fact_sheet_394.pdf. Accessed October 7, 2016
Hayes D, Spano M, Donnelly JE, Hillman CH, Kleinman R. Proceedings of the Learning Connection Summit. Nutr Today. 2014;49(1):18- 25. doi:10.1097/NT.0000000000000011
Share Our Strength No Kid Hungry APCO Insight. Hunger in the Classroom : Share Our Strength Teacher Report 2012.; 2012. http://join.nokidhungry.org/site/DocServer/2012-teacher-report-full-final.pdf?docID=8902